Our work
Campaign Strategy
To succeed with the telemarketing part, we set up a clearly defined 5-step process:
Initial workshop
The first step was a workshop with the customer, where we made sure to gather all necessary information both regarding the target group and the two products that were going to be promoted. This first step is essential in the subsequent pitch creation as well as for the production of the digital ads. A prerequisite for a campaign of this kind to succeed is that all parties work together towards the same goal. Through the initial workshop, we were able to assure that we had an agreement as to the customer's expectations and also what was required of us.
Pitch development
Following the initial workshop, Brightvision started producing the pitches. We early on decided to create several pitches tailored to the different titles, which we were going to contact.
Approval of the pitches
After the pitches were developed, they were sent to RSA for approval.
Test call
When the pitches were approved, a number of test calls were made to make sure that they worked as planned.
Interviews
We then started to make the calls and to book new sales meetings on behalf of RSA. Weekly reconciliations were held throughout the campaign to update the customer on the progress of the work.
Digital advertising
Alongside the pitch development and the search for new leads, the digital campaign was carried out. After the initial workshop, we made sure to identify the right target group – based on the ABM list – on LinkedIn. We then produced four ads, which the customer got to approve before they were published on LinkedIn. Throughout the campaign, we made sure to optimize the ads in order to achieve the best possible result.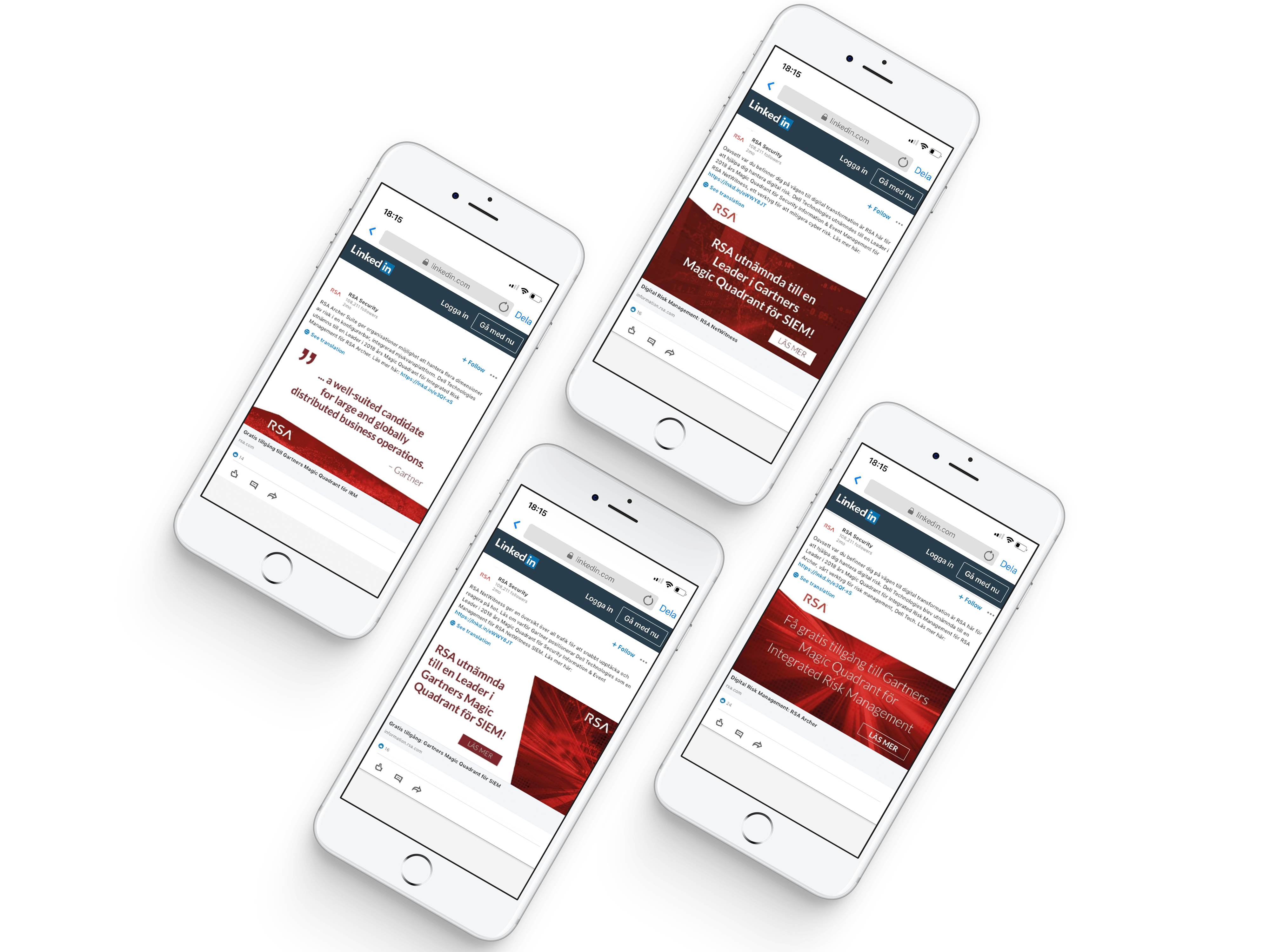 Evaluation
Working with well-targeted ABM strategies led to very good results. The four digital ads resulted in a total of 76,000 impressions. In addition, all ads had an average Click-Through Rate of 0.54%, which is above the industry benchmark (0.3%).

Regarding the campaign's telemarketing part, the goal was to schedule 10 meetings. When the campaign ended, we had made 71 qualified interviews and, despite the high threshold of getting in touch with C-level contacts, we managed to book 16 meetings for RSA, which equals a conversion rate of 23%.

In conclusion, the successful campaign was a result of true commitment, the work of experienced consultants and close cooperation. Given the fact that everyone was striving towards the same goal, we made sure that all pieces of the puzzle fell into the right place at an early stage of the campaign, which in turn enabled us to prioritize the right matters and move forward in an efficient manner.