After setting up all emails and landing pages, it was time to fill the campaign with premium content. The most important part of all inbound campaign is content the persona find interesting, valuable and engaging. As part of the campaign strategy, we build the entire campaign around one piece of Big Rock content – an eBook on how companies should secure their IT. The eBook was made available for download on the two landing pages.

The email flow was also filled with content of value on the same topic as the e-book. This included, among other things, two customer cases.

To further help the leads down the buyer's journey, Brightvision created three videos examining the different packages Upheads provide for IT security; Secure Net, Secure Server and Secure Employee. First we created a script, based on the persona's challanges and goals, after that we started producing. We did this with both filmed clips, bought clips and screen recordings and pieced them together to make three educating and engaging videos.
Video 1, 2 och 3
Paid promotion
We launched paid campaigns on Facebook and LinkedIn. The ads contained a call-to-action that prompted viewers to download the eBook. The ads were segmented based on buyer persona. We used both sponsored and organic posts.

We worked continuously throughout the campaign to analyze and optimize the performance of the ads. This work is essential to improve the performance of the ads, maximize ad spend and increase ROI.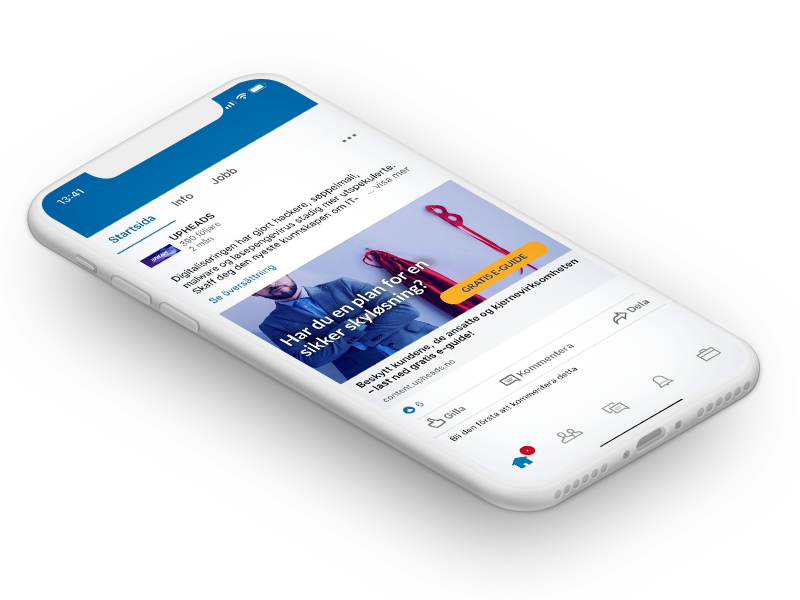 Evaluation

Once the campaign had finished it was time to analyze the results to find further insights about our market, buyer personas and content. This is an essential part of any campaign in order to optimize and make improvements for future marketing initiatives.

We presented the results, insights and recommendations for next steps in a detailed campaign report. Ultimately, the team at Upheads was happy with the results and decided to extend the campaign.