Finding the Right Marketing Automation System
sAs more people realize the perks of Marketing Automation, the market for MA systems has exploded. Today there are more than 300 different MA systems to choose from. Consequently, the buyers are left with an agonizing feeling when it comes to making the right decision. Especially given the fact that finding the right solution to help nurture and engage prospects is crucial, as a wrong turn can be a costly and time consuming story.
At Brightvision we've tried a few different tools and systems. A favorite of ours is SharpSpring – one of the most flexible full-service Marketing Automation systems on the market. SharpSpring offers native and 3rd party CRM integration, fully integrated call tracking and universal CMS compatibility, in addition to integration with hundreds of applications. SharpSpring makes it easy to compare data side by side to get a full picture of end-to-end ROI.
Below we have listed three reasons why SharpSpring is one of our our go-to Marketing Automation systems.
1. Easy to use
One reason why SharpSping is a favorite of ours is because it's easy to use. We know that you don't have hours upon hours to learn a new system, and even if you did, we're sure you can think of better ways to spend them. SharpSpring offers dedicated support, including quick answers, extensive self-help resources and a responsive development team, which will spare you the struggle of having to figure things out on your own.
2. Month-to-Month Contracts
Yet another thing we value with SharpSpring is that they offer month-to-month contracts. This means that you're able to try it out without having to think about long-term commitments. Because let's face it, the marketing world (and your customers) can easily shift from one day to another which makes agility crucial.
3. Affordable yet Powerful
Additionally, depending on the pricing structure you choose, the price for a SharpSpring license is usually less than one-third compared to other MA systems. Yet it's a tool powerful enough to be trusted by thousands of businesses worldwide. This makes SharpSpring the perfect Marketing Automation software both for small companies with a limited marketing budget, and big businesses that are ready to take their lead generation to the next level.
Some of the features you'll find in SharpSpring: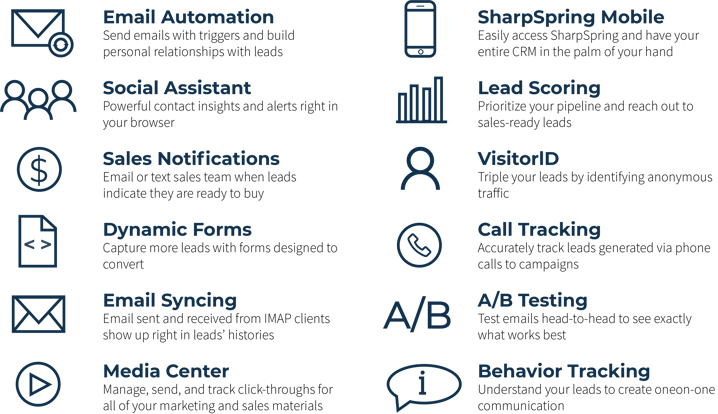 Certified Platinum Partner
At Brightvision, we are proud to have reached platinum-level certification in SharpSpring's partner certification program, through which SharpSpring empowers partners to become experts in Marketing Automation. Becoming a Platinum partner means that we are demonstrating an excellent level of expertise in Marketing Automation. The certification also shows that we are well-equipped to help clients generate qualified leads and optimize the ROI of marketing campaigns, which we take great pride in.

Would you like to know more about SharpSpring and Marketing Automation?
Check out our webinar "In Pursuit of the Right Marketing Automation System", where we take a closer look at SharpSpring and share some of our best Marketing Automation hacks.

Of course you can also get in touch and let us guide you!