CloudXtract is a big data analytics platform that gives companies immediate insight to the health of their business. Brightvision was chosen to help them launch their go-to-market strategy and create their first inbound marketing campaign. This established CloudXtract as a new player in the data analytics market. Next, they were ready to step up their content game.
Fueled by our learning's from the launch, we set out to build an even more sophisticated inbound marketing strategy for CloudXtract, with the objective to double the amount of leads. Let's take a look at the challenges we faced and how we generated more than 450 leads using a big rock strategy.


Go-to-market: Building the foundation
CloudXtract, an SaaS startup based out of Oslo, Norway, acquired its first leads as well as customers using an inbound marketing approach. At this point, they wanted to focus on the Norwegian market and needed a go-to-market plan that would fit both their product and their startup mentality. Brightvision was hired for the job.
During this period, we did all the grunt work. This included:
Defining user personas
Defining company and product messaging
Mapping out content needs
Creating a lead qualification process
Implementing a CRM and setting up workflows
Establishing goals and objectives
Following the initial foundation work, we created three pieces of content aimed specifically toward the user personas we had identified (CMO, CFO, CEO). These were promoted through paid media supported by webinars, organic social and email nurturing flows.
"Brightvision was able to turn strategy into
action and deliver results."

- David Holm, CEO at CloudXtract
Initial market response and results: 15.1% conversion rate
At the end of the active campaign period, we had 205 unique leads in the pipeline. Our IT-specialized SDRs booked a total of 31 meetings out of that pool of leads. That's a 15.1% conversion rate, which for any business – especially a startup – is an impressive achievement. As a result, CloudXtract soon onboarded their first customers.


Advancing our inbound marketing strategy
After a successful launch and great initial results, CloudXtract wanted to continue to explore inbound marketing as their primary strategy to generate leads. This time, we decided to adopt the increasingly popular and effective content strategy known as "Big Rock".
Before we dive into the production process. Let's take a closer look at what a Big Rock content strategy is.


What's a Big Rock strategy?
A Big Rock content strategy means that you're producing one significant piece of content. There are no rules in terms of format. It can be an eBook, a white paper, a video – as long as it's big, contains relevant content and of course, is visually appealing. The intention behind a big rock piece of content is to own a conversation, or at the very least, have a big influence on a conversation.
Once the big rock has been finalized, it should be launched in the same way you'd launch a product. That means you don't just post an update on Facebook and call it a day. You relentlessly distribute content nuggets on different platforms such as your website, landing pages, blog, email and social media.
Image 1. Big rock content matrix.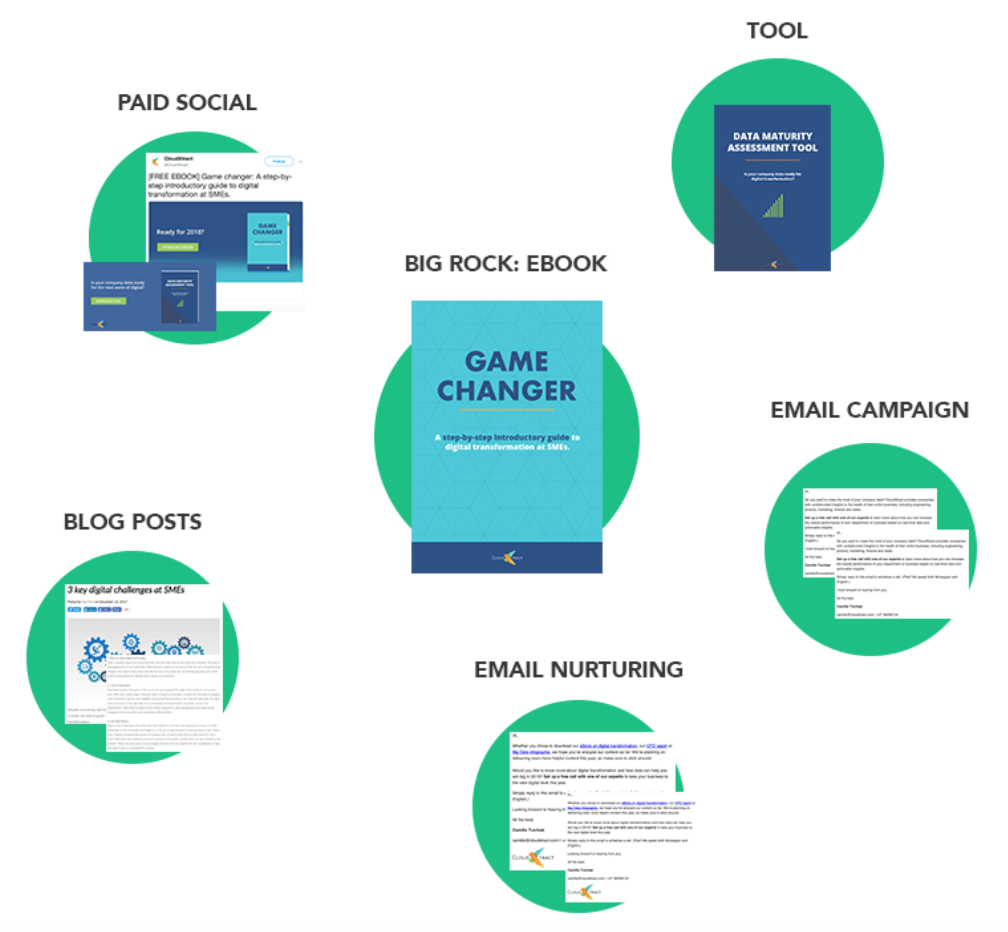 Producing a "Big Rock" content piece
As a startup, inbound and content marketing can be a tough nut to crack. Where do you start? What do you focus on? How do you stand out? This is where you let your product guide you.
This time around we were working with very tight deadlines. After our kick-off meeting, we returned the next week to go over our campaign proposal for the quarter. Following revision and budget allocations, we had roughly three weeks to deliver the end product to our client. This meant planning, drafting, editing and designing a significant content piece in 12 business days.
Discover what the timeline looked like below.


Image 2. Campaign timeline.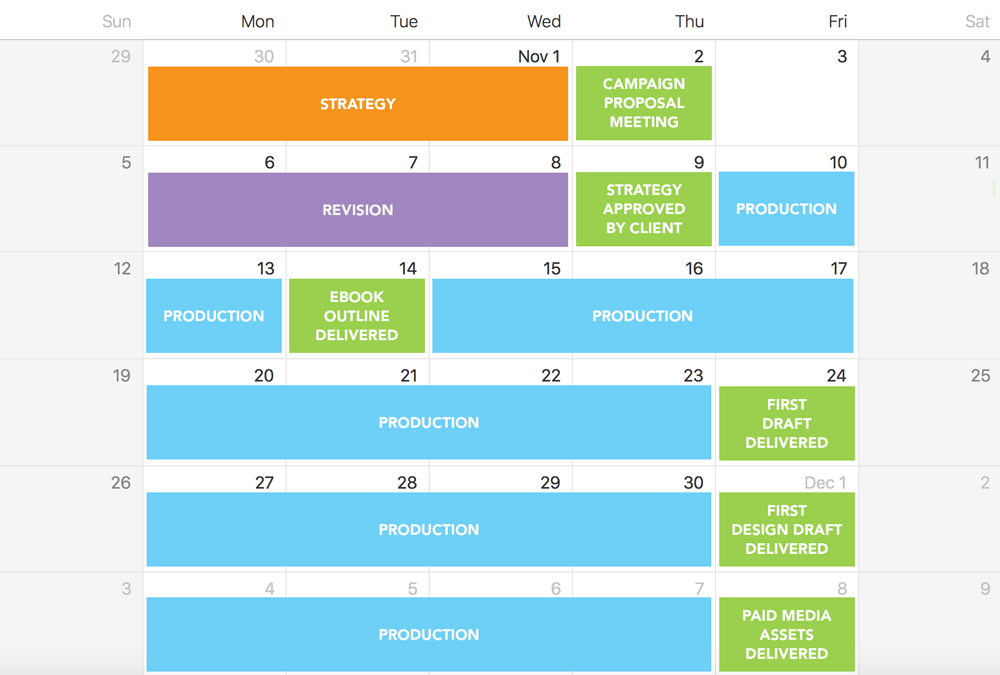 Step 1: Topic and format
A key focus area for CloudXtract was digital transformation. Not only was it a highly relevant topic, but also a conversation in which CloudXtract's product offer was a perfect fit. Hence, agreeing on the topic was a no-brainer.
After a brainstorming session, we arrived at the conclusion that an eBook would be the best format given the topic, the audience and the time constraints we were working with.


Step 2: Outline, drafting and editing
Deciding what to write about is arguably much more tricky than the writing itself. So the fact that we arrived on a topic and direction as early as we did, meant that we gained a lot of production time. Something that helped a lot with our unforgiving deadline.
In the next couple of days, we delivered the initial outline for the eBook. This included:
Working title
Format
Topic idea
Audience
Goals
Resources
Outline of all sections
Image 3. Ebook proposal and outline.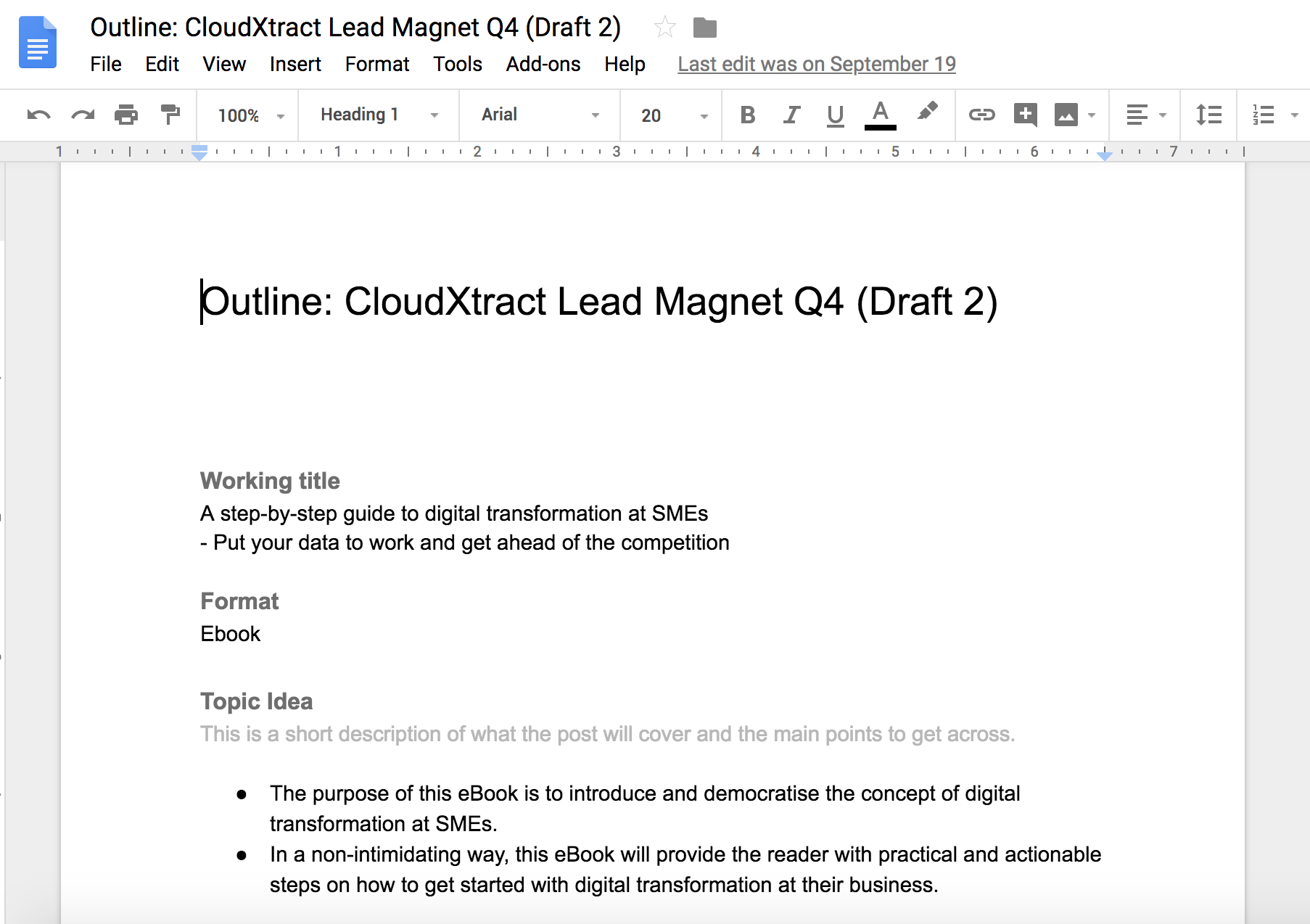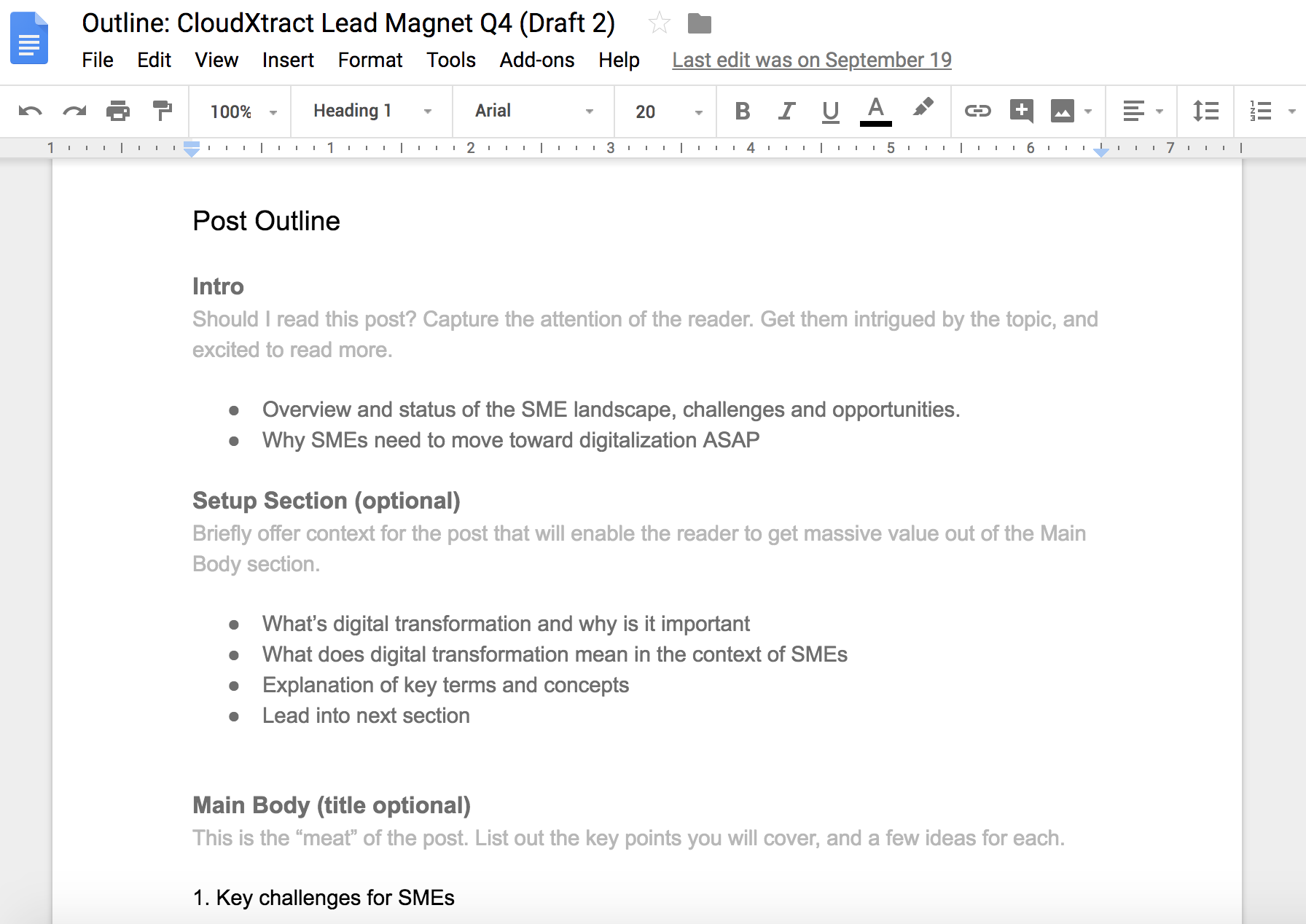 Once the outline was approved, we started doing the heavy-lifting: producing the first draft of the eBook. A week later, it was ready for review. After two review rounds which took place over the following week, we were ready to enter the design phase.
Step 3: Design phase and assets
It was important to have a clean design that together with the title would evoke curiosity and stand out in various social feeds. At this point, the eBook was also given the primary title Game Changer. Three concepts were put forward for review:


Proposal 1, 2 and 3.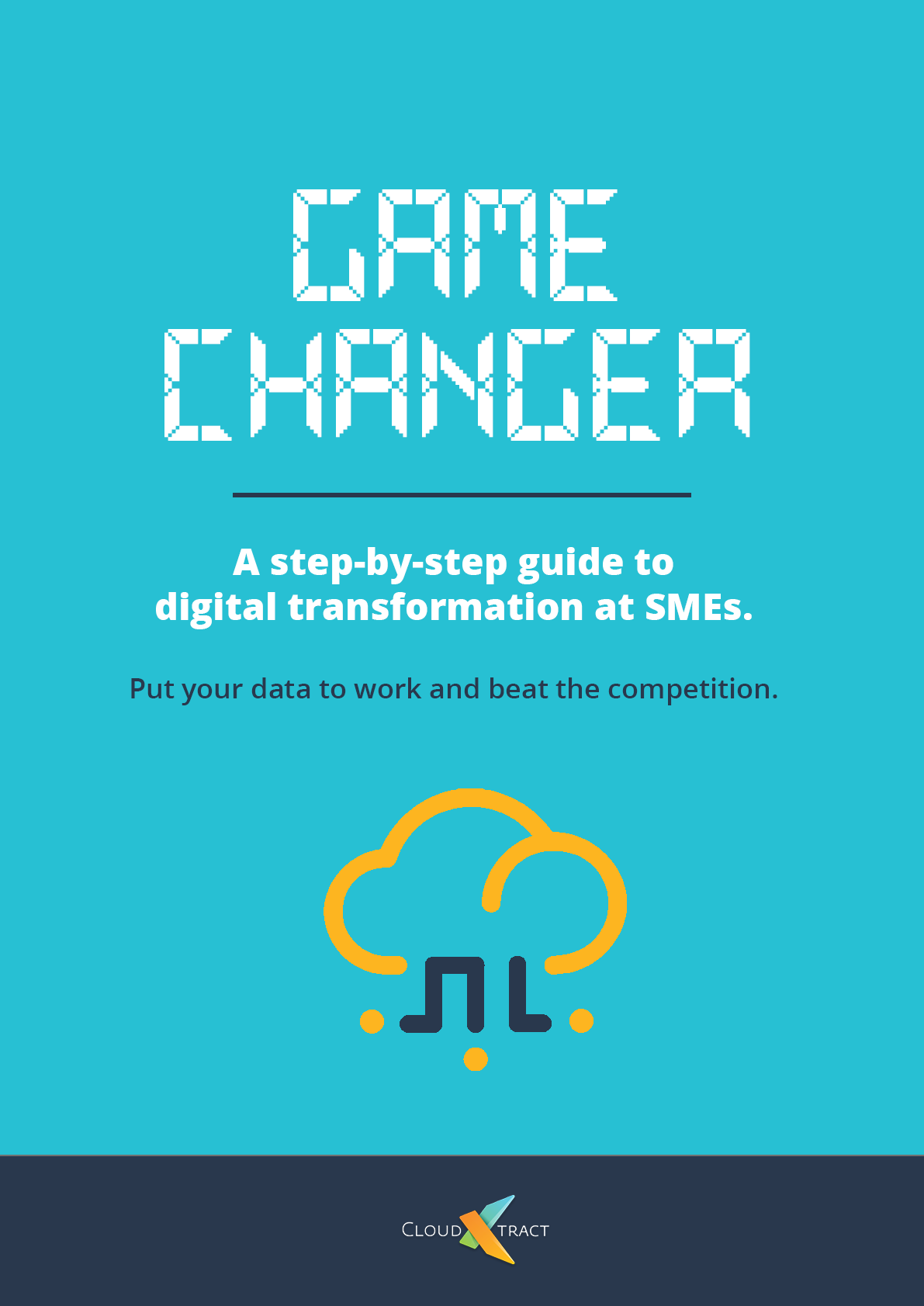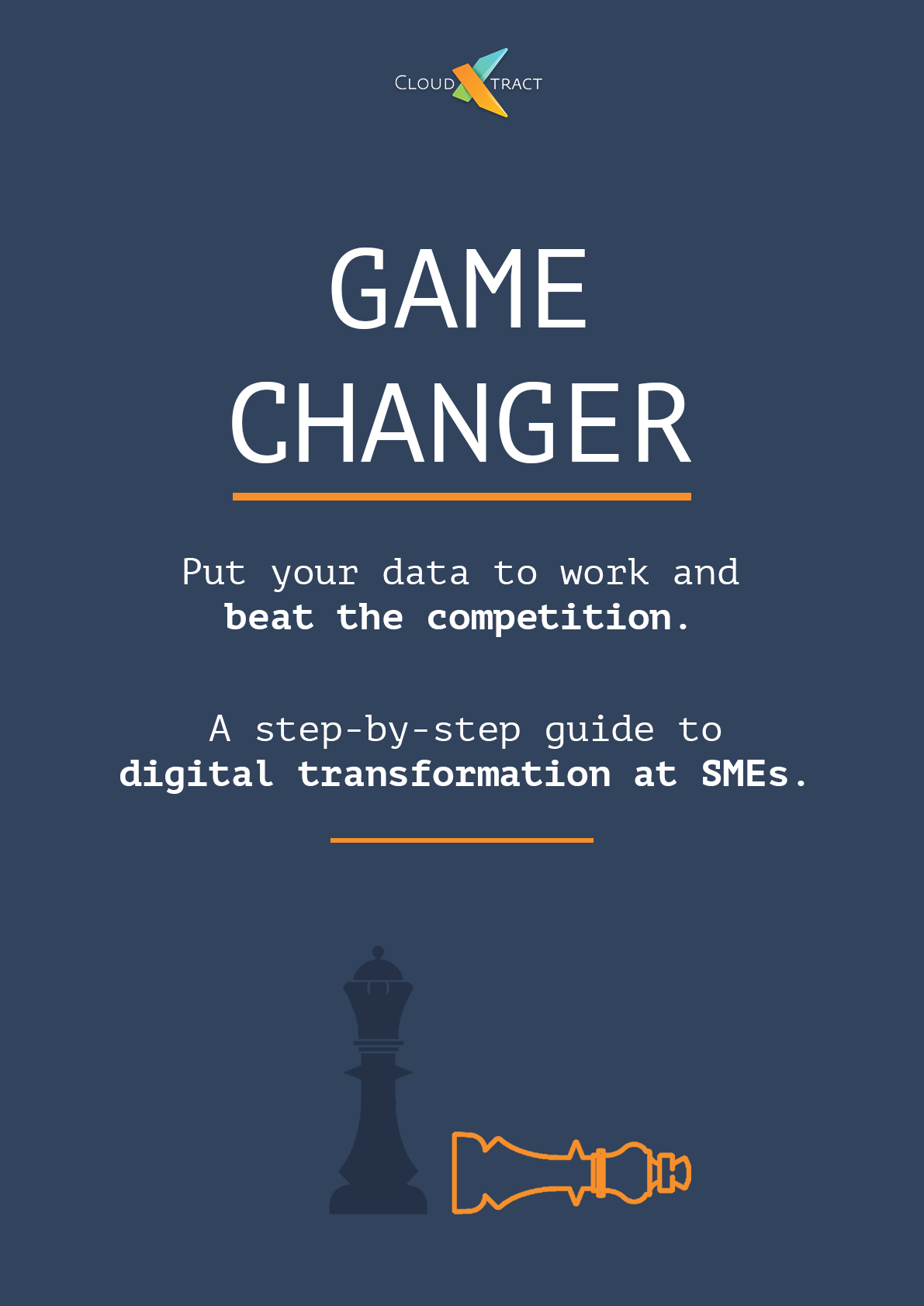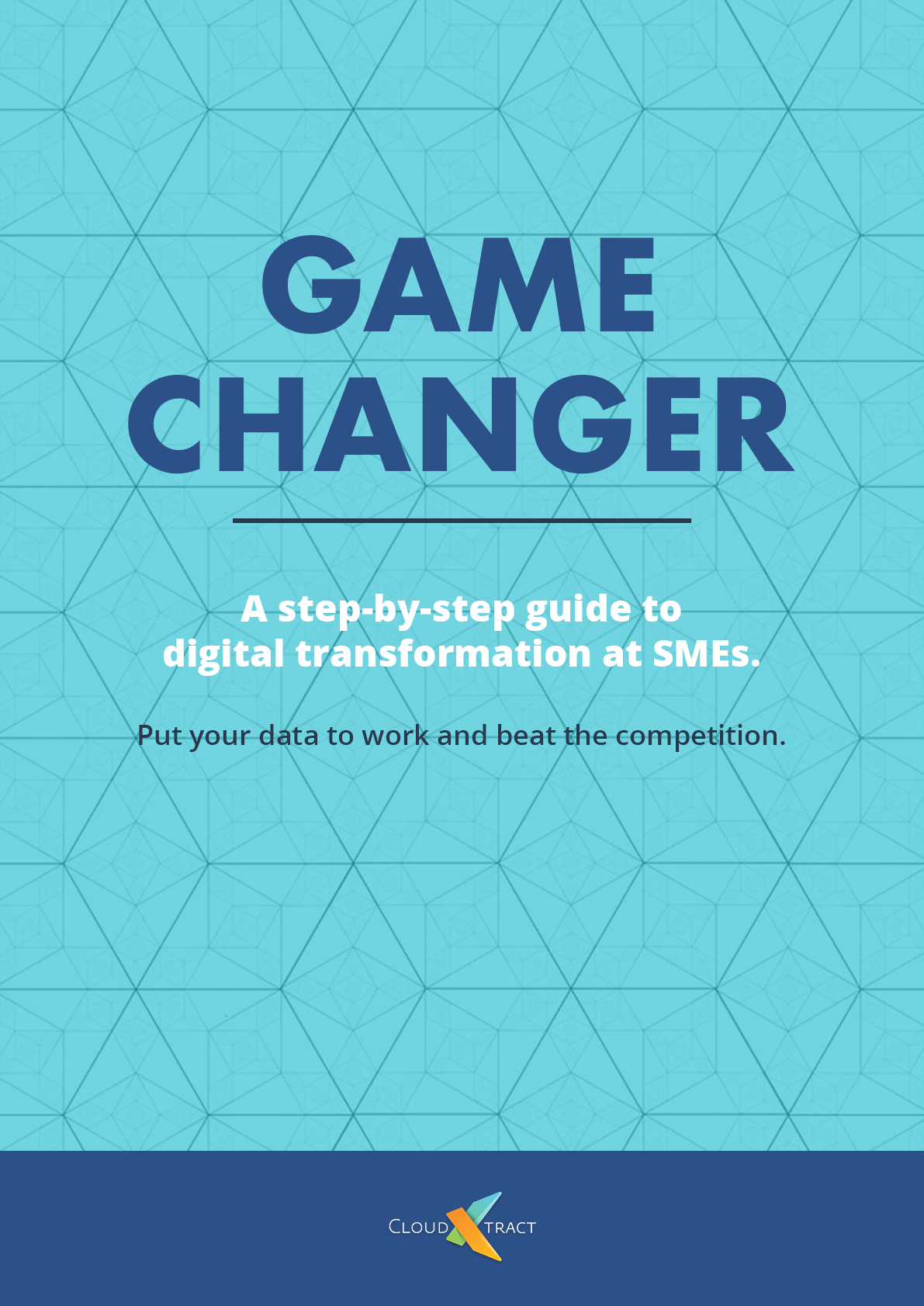 After a feedback round, we proceeded with proposal number three. We wanted the title to attract interest on its own, rather than clutter the cover with design elements that could draw attention away from the purpose of the eBook.
Curious about the end result? Download the free eBook here.
Paid media: How we crushed the benchmarks
Paid media is an essential part of any lead generation campaign as you can't solely rely on organic traffic. For this campaign we had a budget of 50,000 SEK that we wanted to distribute across Facebook, LinkedIn and Twitter.
When budgeting for an inbound campaign, it's important to test the waters. Testing and agility are crucial elements throughout the entire lifespan of a paid media campaign. This is to make sure you get the most out of your budget as you optimize campaigns based on performance.
Here's what it looked like when we set up our first campaigns on Facebook, LinkedIn and Twitter.


Facebook campaigns
We had three distinct target audiences for our paid ads on Facebook.
Business owners
CIO + Product Managers
Above titles located only in Oslo (this was so that CloudXtract could meet potential customers in person)
Here's what the first ad looked like: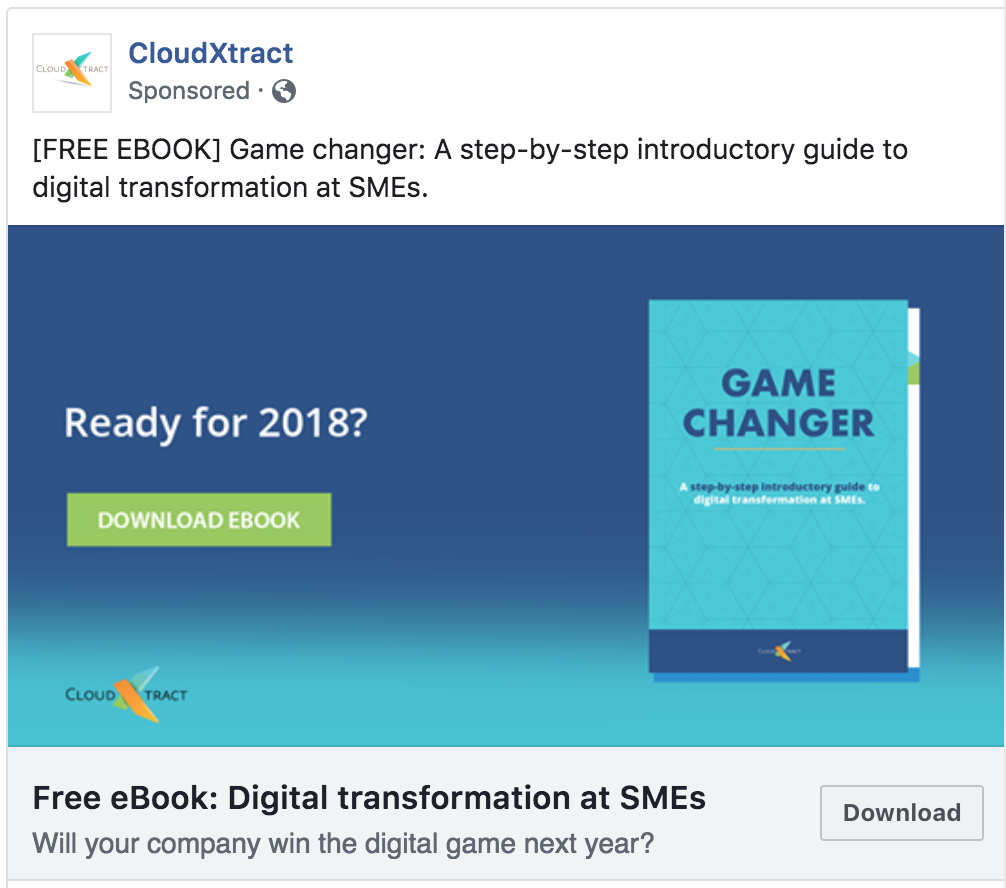 We chose to use lead generation ads as we'd seen them outperform CPC ads for other clients.
The initial results can be seen below.
Image 4. Overview of lead generation campaigns on Facebook.




LinkedIn campaigns
We set up two test campaigns using lead generation ads on LinkedIn. They had only target audience: Owners and CEOs (approximately 110,000 people in Norway).
We tested two different copy variations and slightly different ad creatives. Here's what they looked like:


Version 1.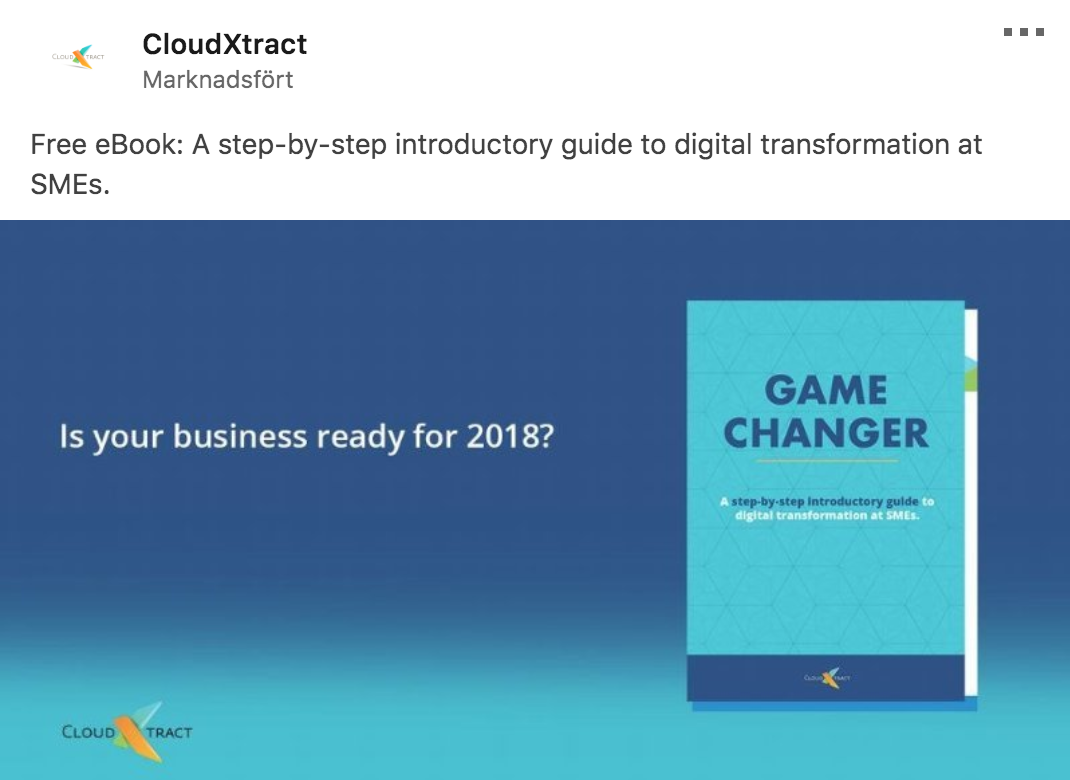 Version 2.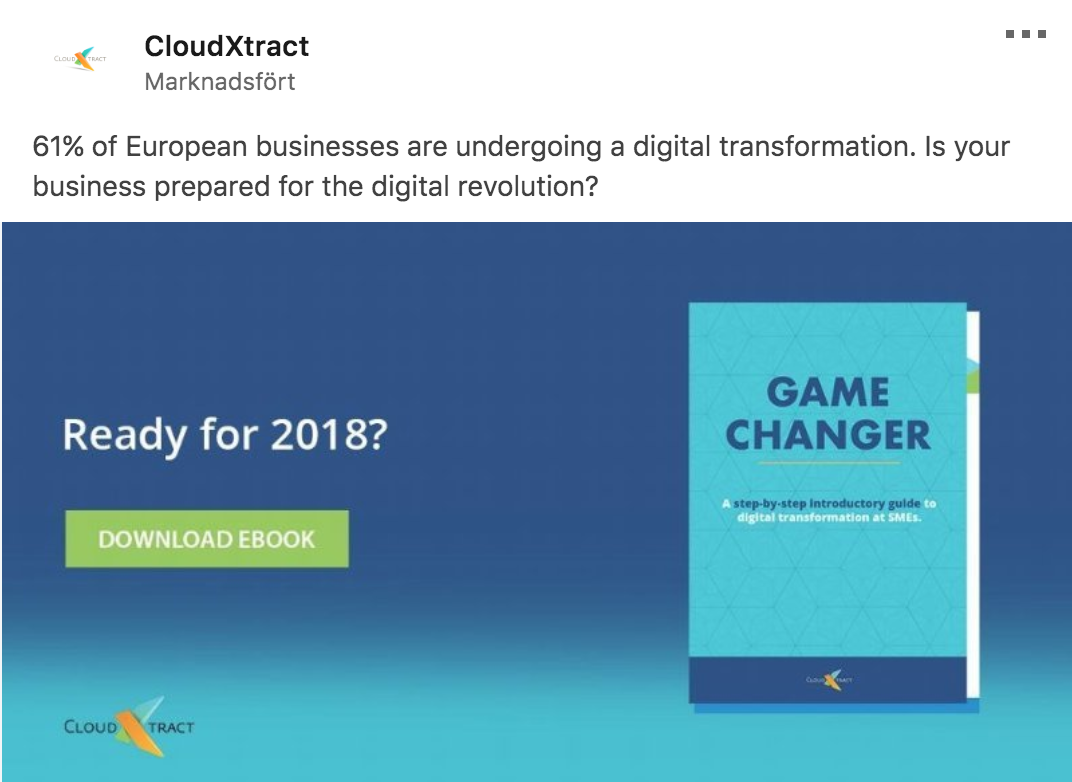 As the initial results came in, we saw some interesting preliminary, yet not conclusive, results in the data. For example, version 1 (no button CTA) had a 0.08% higher CTA than version 2 (with button CTA). Statistically, ads where a button CTA is included perform significantly better than those without.
In addition, version one generated twice as many leads (8) as version 2 (4) and the leads for version 1 came in at an average cost of 102.38 SEK less than its counter ad.
The two versions had the exact same audience, bid (75 SEK) and lifespan. Important to note is that version 2 did not reach its full budget of 2,500 SEK during the campaign period, which could have made a difference to the overall results.
Image 5. Overview of sponsored campaigns on LinkedIn.




The approach on LinkedIn was identical to the one Facebook in order to evaluate which platform would generate the highest quantity of leads. These leads would then be qualified by our two bilingual (Norwegian/English) SDRs responsible for the account.


Twitter campaigns
Twitter mostly served as a grandiose experiment. With no options to choose industry, title, seniority and other key attributes for the audience, we simply started off with "Norway" as our only audience qualification. The results were unsurprising. Generating a disappointing 0.24% CTR consistently, we decided to spend our ad budget in a more controlled environment on Facebook and LinkedIn.


Optimization and results
We reported campaign status in our weekly meetings. Based on the results we optimized the existing campaigns. This could mean things such as:
Updating the copy
Changing the creative
Placing higher bids
Expanding the audience
Extending campaign timeline etc.
Our detailed weekly reports would cover the performance across all platforms compared to previous two weeks, ad spend, recommendations for the upcoming week and remaining budget.


Image 6. Results overview week 3 of campaign period.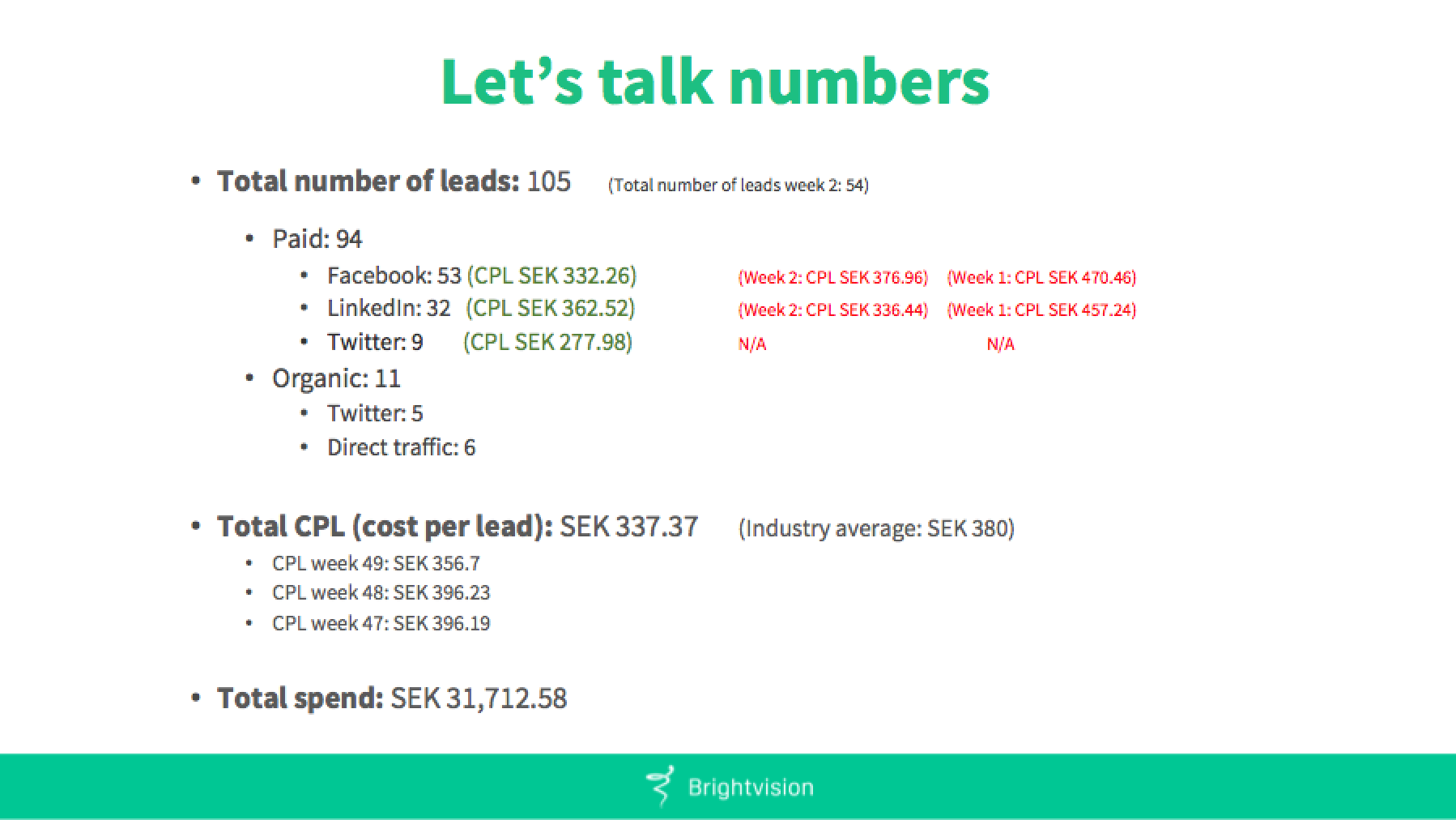 Divide and conquer - Putting all content pieces in motion
The core purpose of a Big Rock strategy is to re-purpose the main content piece into various forms of content. It's the centerpiece around which everything else revolves. Let's take a look at what we did in order to capitalize on the eBook.


Re-purposing eBook chapters into blog posts
Shortly after we published the eBook, a main focus for CloudXtract was to breathe new life into their blog. Each chapter in the eBook was re-purposed into a blog post, totaling in eight blog posts distributed over the course of a month. Each blog post was completed with an intro and a prompt at the end to download the eBook.
Blog post 1: What's digital transformation?
Blog post 2: The role of data in SMEs
Blog post 3: 3 key challenges at SMEs
Blog post 4: Digital transformation step 1: Digital maturity assessment
Blog post 5: Digital transformation step 2: Aligning your team
Blog post 6: Digital transformation step 3: Manage your data
Blog post 7: Digital transformation step 4: Create your roadmap
Blog post 8: Digital transformation step 5: Utilize proven tools
Now, the great thing about blog posts is that re-purposing content really knows no limits. You can do short or long form posts, or both – all using the same content base. Just make sure each post delivers a specific value, no one likes a nothing-saying blog post.


Image 7. Overview of Cloudxtract's blog.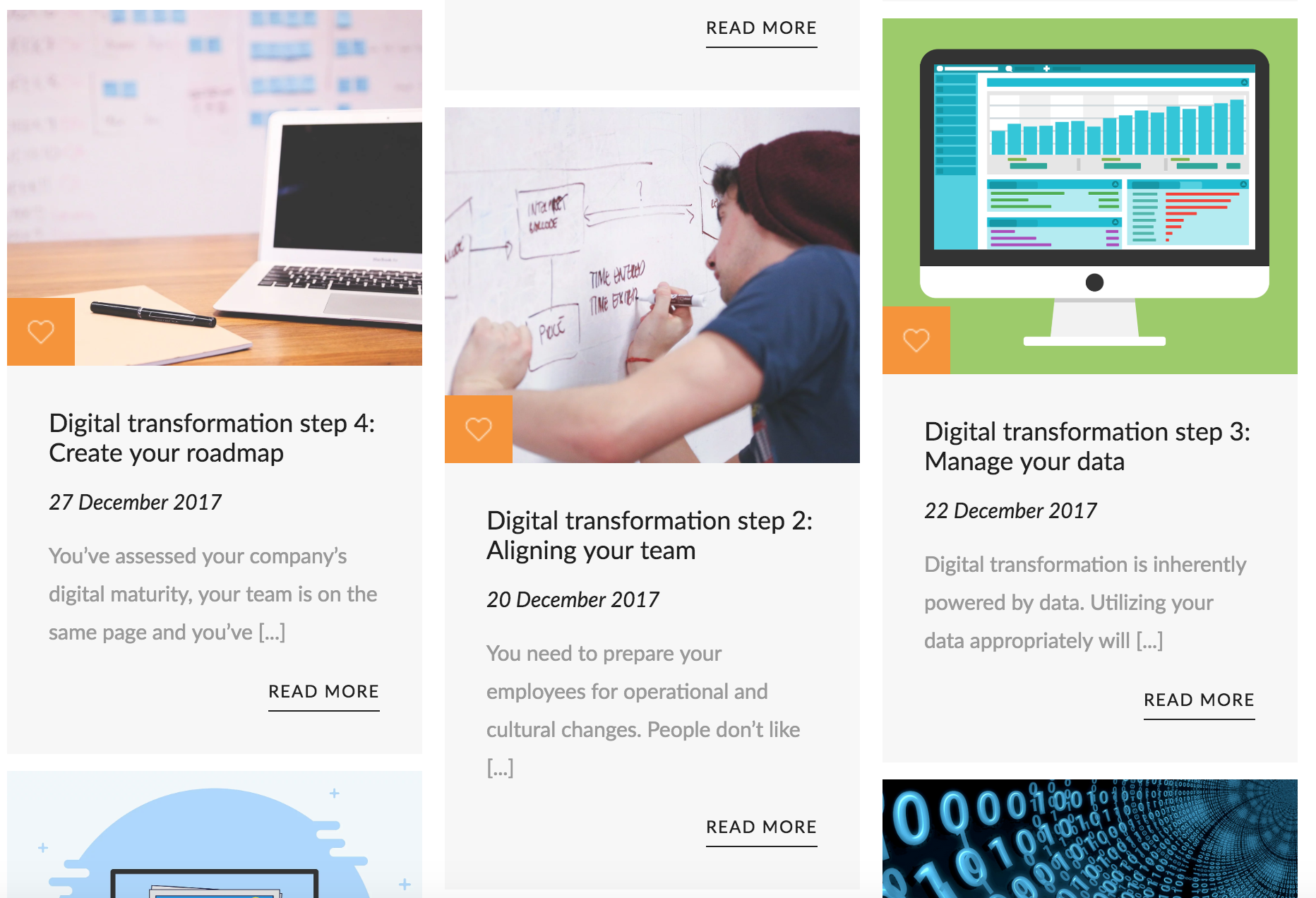 As an added bonus, while doing research for another piece of content for CloudXtract, we discovered that we had accidentally made it to the second spot on Google's first page using long tail search term "digital transformation align team."
Image 8. Google search results.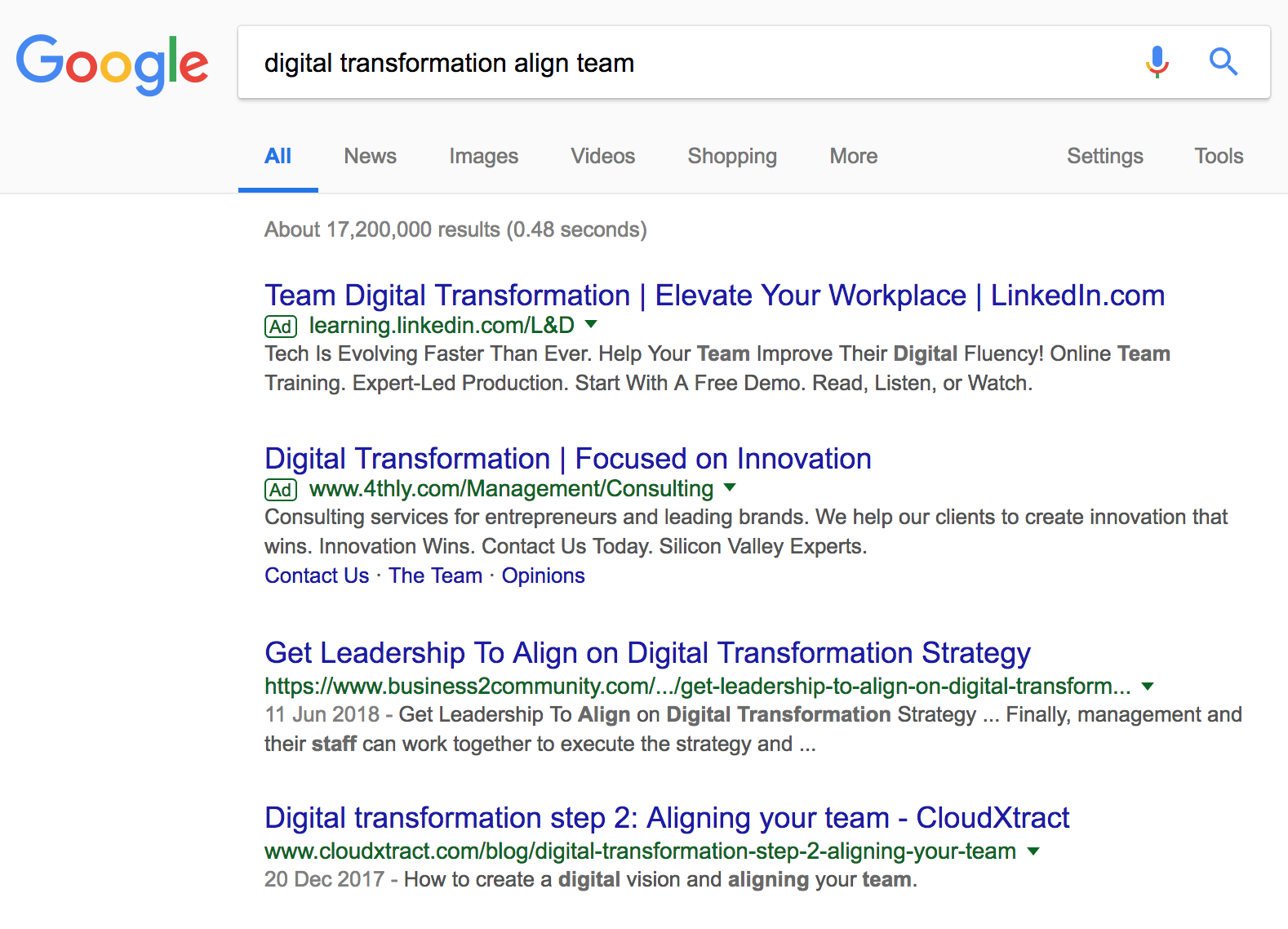 Drip-feeding content on social media
Social media serves very little purpose unless you communicate through you channels consistently. That's why we made it our mission to post frequently on across all channels.
Facebook and LinkedIn were important platforms for our paid media activities, but organically speaking, CloudXtract's biggest and most engaged audience was on Twitter. That's why Twitter was a big focus and traffic driver for us during the campaign. In addition to announcing the launch of the eBook itself, we shared all kinds of content nuggets relating to digital transformation in our feed.
Image 9 and 10. Twitter updates.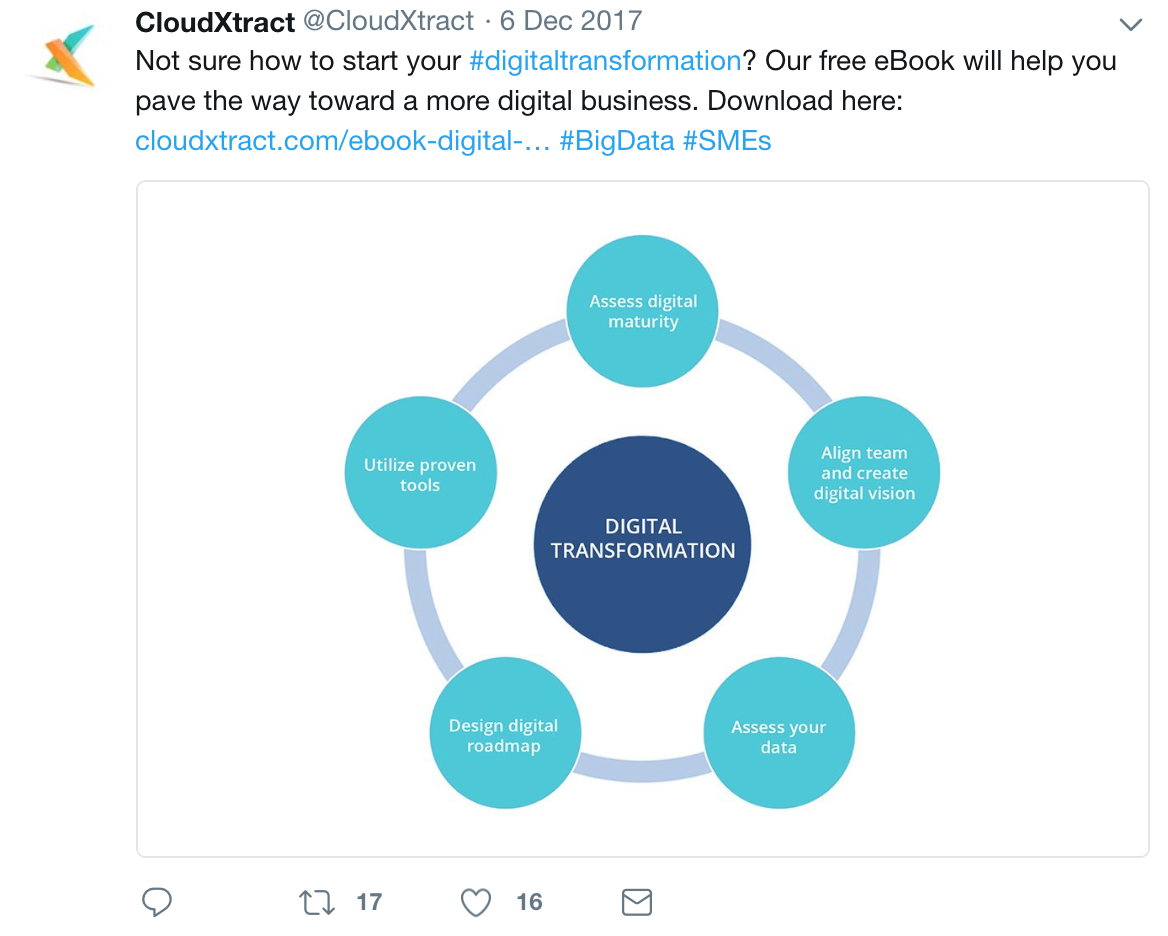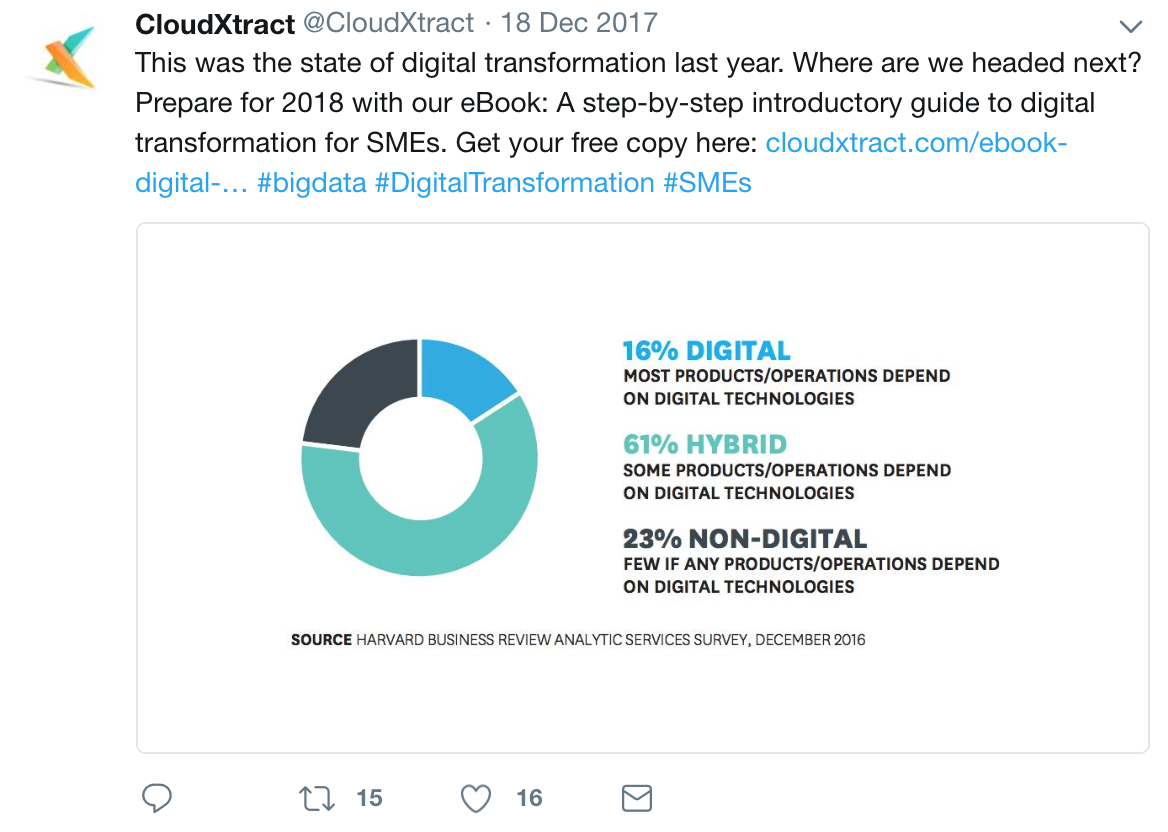 Email marketing campaign - Converting existing leads from partner database
Inbound marketing isn't just about generating new leads. It's just as much about driving existing leads further down the funnel. An email marketing campaign is a great way of activating your existing database.
CloudXtract had access to a partner database and the idea was to convert existing leads in the partner database to CloudXtract's own leads. We sent out an email campaign to two different segments promoting the eBook launch.
This low cost campaign generated a total of 126 leads.


Email nurturing campaign - Driving leads further down the funnel
Email nurturing is an important part of the lead qualification process. But the point of an email nurturing campaign is not to send out as many emails as possible to as many leads as possible. Based on the lead's behavior through their recorded activity (in this case, we were keeping tabs on our leads using HubSpot CRM), you can make informed decisions regarding how relevant the lead is for your business.
Each email nurturing campaign should have a specific goal. In this case, the goal was to schedule a free consultation with one of CloudXtract's data experts, and thereby turning the lead into a prospect. As we were operating under strict deadlines during the campaign period, we had a sequence of three emails in place.
Email 1: Thank you for downloading.
Email 2: Revisit downloaded content and schedule a free data consultation.
Email 3: Schedule a free data consultation.
Below, you see the second and first email in the sequence.


Email 2.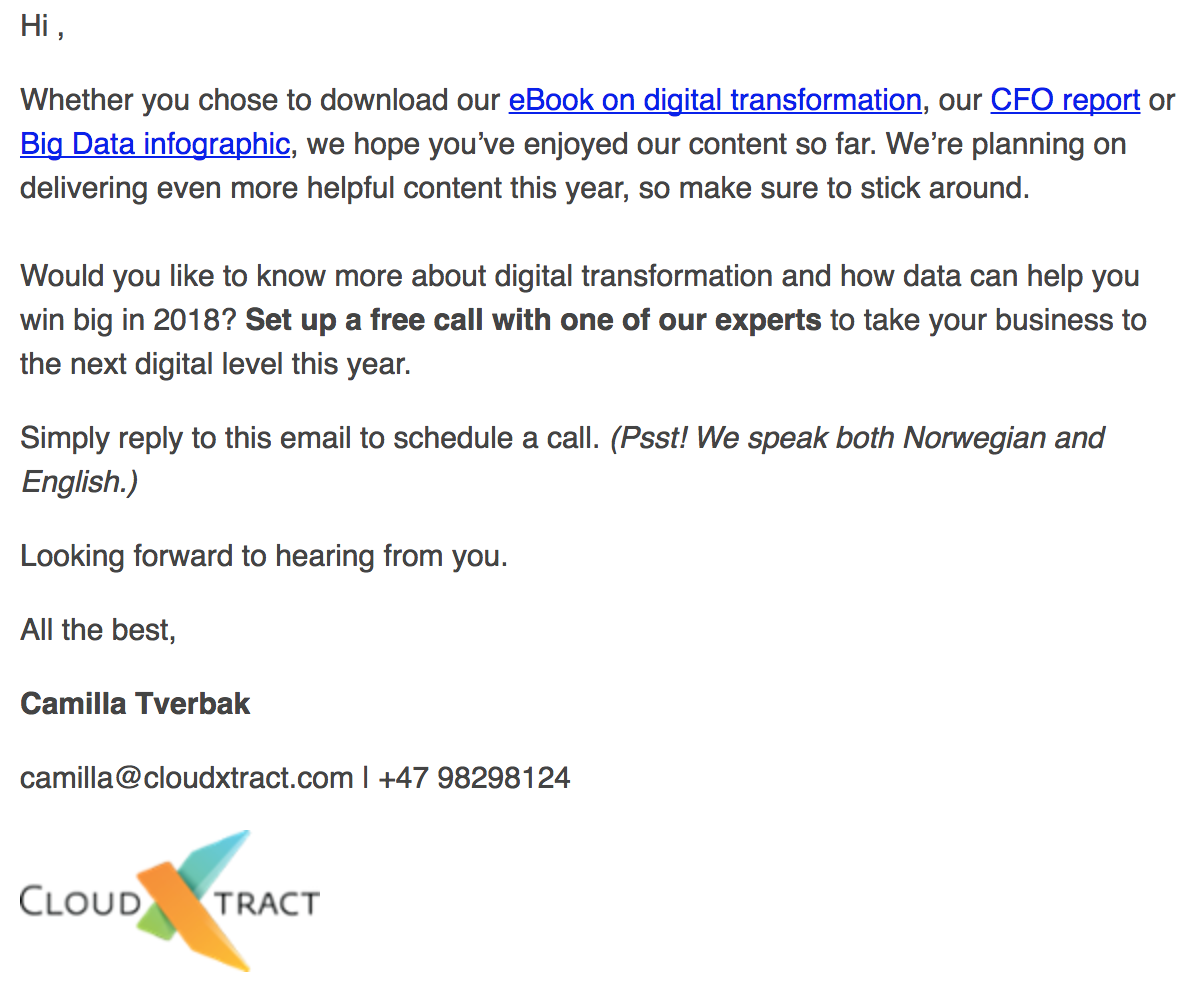 Email 3.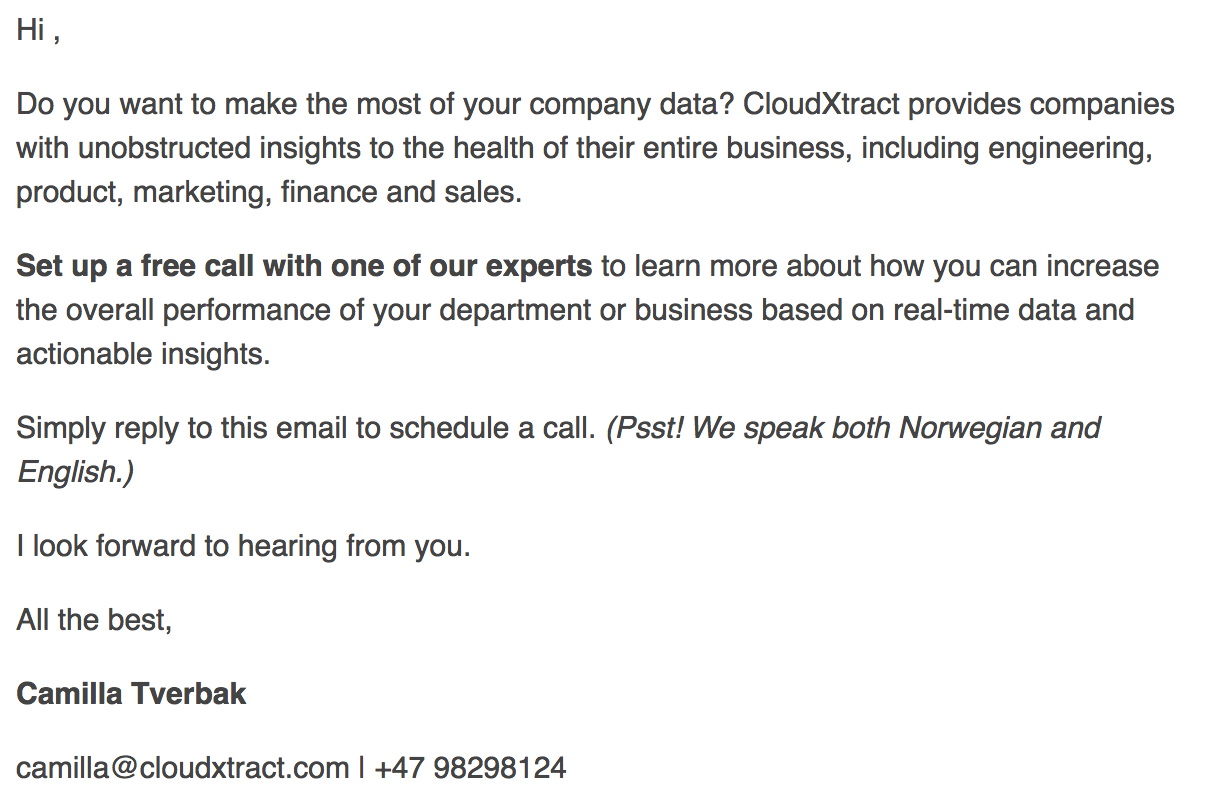 Lead qualification process and booked meetings
The aim of our telemarketing activities was to better understand our buyer persona better with an ultimate goal of booking a meeting with one of CloudXtract's data experts. Our IT-specialized SDRs worked closely with our inbound marketing consultant as their task was to follow up on leads generated by our inbound activities, primarily:
Ebook downloads
Report downloads (Q2 content)
Infographic downloads (Q2 content)
In addition, they also handled the demo requests that came in organically on their website.
During the follow-up calls, our SDRs focused on understanding how the leads currently analyze their data and what kind of systems and tools they used. This was crucial in order to assess their potential as a prospect and turn them into SQLs.
Our SDRs used HubSpot CRM for the qualification process to keep track of their leads, tasks and activities. Out of a pool of 408 leads, which included companies such as IKEA and SAS, our SDRs generated 36 booked meetings from 200 interviews. This means they achieved a conversation rate of 18%.


Content as a long-term strategy
The eBook keeps generating leads for CloudXtract and has at the time of writing totalled to 550+ leads without any further paid efforts, just through organic search. This goes to show that high-quality content on its own can be a long-term and cost-effective strategy for generating leads.
When it comes to content, consistency, quality and conversation are key. Inbound marketing and content are strategies that requires commitment. While ad hoc content projects can give your quarterly goals a much needed boost, content will serve you best over time as you can continuously reap the benefits of the results.


Are you considering inbound marketing?
Do you want a long-term lead generation strategy? Do you want to win the content game? Do you want to see actionable results?

If yes, book a commitment-free meeting with one of our inbound experts to see what we can do for you.