Google Analytics is an essential tool for anyone with a website. Most companies have set up Google Analytics on their website, but far from everyone has fully utilized the potential in this powerful platform. For those who get past the technical threshold of correct setup, they also struggle to understand what to measure and what the data can tell you.
That holds particularly true when it comes to B2B lead generation. In this blog post we'll look at how Google Analytics can be used to make your lead generation efforts more efficient (if you want to learn more about Google Analytics and Lead Generation register to our webinar).
Let's go(ogle)!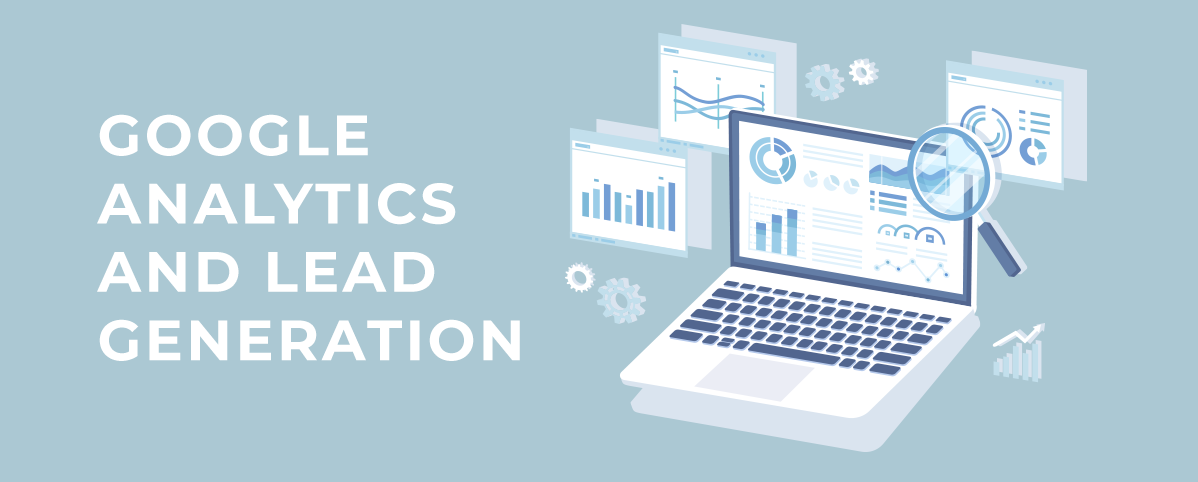 3 steps to use Google Analytics for lead generation
Define leads and goals

As always with lead generation; determining definitions and setting goals is key. Before you do anything else, define what a quality lead is to you. This depends on whether you're a B2B or B2C company, what you offer and your specific marketing objectives.
Then, think about what action you want your visitors to take on your website. Think about your website in general, as well as any specific page. Common goals for B2B companies, where online purchases might not be possible, are downloading content, reading a blog article, signing up for a newsletter or submitting a contact form.
Set up accurate conversion tracking

When you've set your goals and defined your leads, it's time to get into Google Analytics to set up the actual tracking. In Google Analytics, we set up goals to track conversions. There are four ways to track goals; URLs, Time, Pages/Visits and Events. Understanding the different goal types is crucial to your success with Google Analytics in lead generation.
URL goals is, as you might have guessed, a way to track specific URLs. This goal type is great for thank you pages, confirmation pages and PDFs. You can also setup goal funnels, to keep track on a visitor who moves through several pages. For B2B lead generation, this may be the most important type of goal.
Time goals can be used to keep track of how many of your visitors stay on your site for a specific time. You can track visitors who stay on the site for greater than a specific time of your own choosing. One example to use this, is to estimate the time it takes to read a blog post, and then set up the goal to track how many stays on that blog page for a longer time than your estimation.
Pages/Visits is similar to Time goals, but Pages/Visits lets you track how many pages each visitor sees before they leave. In other words, you'll need to set" greater than" and then set a number of pages.
Event goals demand a bit more setup, as it's up to you to define the events you want to track. If you want to track an Event goal, you need to add a bit of JavaScript to your page. Event goals are versatile, and the code snippet can be used to track things like external links, downloads, time spent watching videos and social media buttons.
Understand the metrics
Google Analytics can track many different metrics. If you're setting up your Google Analytics account yourself, you'll need to take the time to understand what each metric means and the difference between them. Here is a quick breakdown of a few important metrics:
Acquisition Overview: Here you'll find information about traffic sources – organic search, direct hits, referrals and social media.
Social Overview: Take a deep dive into your website's presence on social media.
Bounce rate: The bounce rate represents how many visitors that leave after viewing only one single page.
Conversions: Conversions in Google Analytics occurs when a goal (as we talked about above) is completed by a visitor.
Exit pages: This metric lets you see the last page a visitor views before leaving your site. This allows for important insight to how a visitor flows through your website.
Don't forget! Bounce rate can at times be a tricky metric. For a visitor to not be regarded as a bounce, they need to take an action (click on a button, trigger an event etc.). So, even if a visitor visits a blog post, reads it for 10 minutes and then close the browser, it is regarded as a bounce. Keep in mind, a bounce doesn't necessarily mean that a visitor doesn't look at your website page.
Learn more about Google Analytics for lead generation!
Do you want to know more about how Google Analytics can be utilized to make your marketing more efficient? On September 25, we're hosting the live webinar "Google Analytics for B2B Lead Generation and Optimization". By attending the webinar, you can also get a private session with a set-up and configuration of a Google Analytics account.
Read more and sign up by clicking the button below!