On-demand Webinar
[Webinar on demand] The Rise of RevOps
Revenue Operations (RevOps) is a concept that has significantly increased in popularity recently. Simply put, RevOps is a business function that solves the operations silos between marketing, sales and service. Our MarTech team lead Fredrik will guide you through the rise of RevOps and position the concept and its importance within the world of B2B.
RevOps has emerged rapidly lately and have raised questions like: What is RevOps all about? What is the purpose and benefits of implementing RevOps? What strategical and technical considerations should one take into account? In this webinar, we'll give an answer to these questions, as well as providing some hands on examples.
In this 25-minute webinar, you will get:
Insights into the purpose and necessity of implementing RevOps.

Knowledge about how one can unleash the potential of data, automations and processes with the help of RevOps.

Practical and hands-on examples.
---
Presenters:

Fredrik Gunnarsson
Innovation manager & MarTech team lead at Brightvision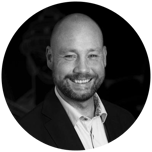 Jakob Löwenbrand
Managing director at Brightvision
Watch the webinar by filling out the form